DID YOU JUST CALL US AN APPLE! BULLETS RELOADED! FIRE…..!!!
It seems the actions towards making the structures sturdier and more advanced, since the ages, have restricted themselves to flyovers, technology and transport. No significant efforts towards coconut-izing ourselves….. our raisin-istic human minds (which swell up if drenched in slightest manipulations), grape-ish emotional sentiments (which can often be sour on encounters with pettiest idioms), peas-in-a-pod-ish social groups (which blindly follow the orthodox norms) or even our pomegranate-ish political representations (which involves sturdiness that prevents advancement and promotes same old governance).
Crux of all raises the same question…. Why is it that even one tiny flake of salt makes our water salty?… Why do we believe in standing up for ourselves in the world by literally standing up with our curses and sticks? It is ironic though…. India, the land which is often renowned as the mecca for yoga and meditation has people who are totally ignorant of the value of calm and peace. To elaborate with examples, I might have to spend some time to choose the best ones from the day since 'reloading the bullets' is such an everyday fact for us.
Take the movie PK for instance, which perhaps would be the easiest example to convey the post's aims. For me, it was a decent movie; that aims to spread the message of coming above the myths, believing in self with a dash of secularism too. Some interpreted it differently and somehow managed to observe the message of 'diminishing one's communal or religious identity'. So much so that these differently opinionated people believed in creating a havoc and destruction just so that their interpretation of a two and half hour Bollywood movie; (that has nursery rhyme like songs, aliens who speak Bhojpuri, embassies and media houses waiting for happy ending of a love story etc.), does not modify our nation's morals. Well if this can happen, then watching a say Spider-man or our Indian Krrisshhh would have instilled the inspiration in me to fly and fight like krisshh or perhaps wait for a man like krissh to get married, or watching a Bhootnath Returns would have made the nation wait for a bhoot to fight elections, or Happy New Year would have had the entire nation dancing and robbing banks.  Even if the movie PK lucidly bashes a particular community… is there a dire need to be affected by a MOVIE… are our sentiments and values so loosely glued to us?
It is unfortunate to have a history of cases in India where the boiling points of agitation have been so quick to achieve, and that too, with the slightest increase in temperature. Be it the Gujarat Riots, Love Jihad Crimes, Honor Killings, Ayodhya Case, etc. all of them and so many more were actually a result of extreme sensitivities. Aren't we evolved enough to work towards a calmer country? … aren't we mature enough to understand the power of four L's 'Letting go, Loving, Laughing and Living'?… I think we all can be… we just need some humor, some sense and some inspiration in order to come face to face with our sentiments, rather than carrying them on our sleeves.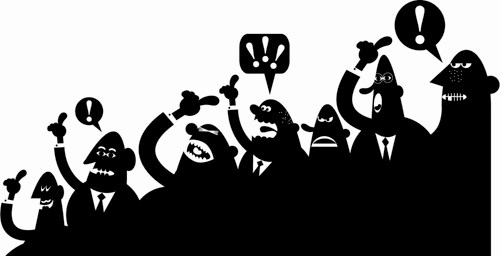 If we believe our exaggeration of emotion is cocooned in our country. Well! News flash… it is not! When I met my friends and colleagues from abroad for the first time, most of them weren't open enough with their conversations…(you know… the religion talks, food, arrange marriages, living with parents, or even the flirt). Some of it can be attributed to the fact that nobody knew each other (which is natural)… while most of it was because nobody wanted to say or do something that would hurt my 'Indian Sentiments'. Well, this is of course with the intention to not disrespect anyone which is fine. The problem is, why 'We' are tagged so sensitive in the world. And yes, I have come with my perfect assumption and that is our exaggeration of emotion. According to me, the problem is not with the world but with us.
Many of us Indians do react strongly and rather viciously at times to comments and acts, which in reality, requires nothing more than a silent chuckle. I mean it is just like, if Mahatma Gandhi would have been teased 'Baldy Brownie' by some British then; do you think he would have reacted with a 'Danda' (stick) on the British's head… No!! I think he would have added something to the joke with a smile.
So I guess, most of us need to chill out on certain levels… remember the Joker's quote from Batman… 'Why so serious?' I don't think I would be offended if someone disrespects my language, color, religion, accent or anything… neither should anyone be. For me, all my values and 'Indian' elements are so deep rooted with such a firm foundation that nothing can bring it down unless I doubt myself. And this is what everyone should instill in themselves, be it anyone from any country for that matter.
But then of course, this is what I believe is reality… everyone may not agree to this or perhaps even think of reloading a virtual gun…. if such is the case, then all I got to say is….. at least i am not responding with my exaggeration of emotion..!!
And yes since this is the first post for 2015…. Happy New Year to all !!!! Cheers 🙂